Help - kartcoupon
Watch following video to understand, how it works?
How to Use a Coupon or Promo Code?
When searching coupons on our website, you see a button like this one: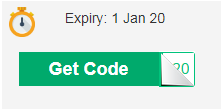 Click it, and you'll open up a window that displays a coupon or promo code—a special code consisting of letters and numbers you can use to get a discount or deal on the merchant's website.
Many retailers provide coupon codes or other Internet-specific discounts to save you money when you shop online. Coupon codes sometimes come under a different name – such as promo code, voucher, offer code or discount code – but their purpose is the same: to save you money.
To learn how to use a coupon code from kartcoupon.com, check out our step-by-step procedure below.
Step One: Get Code
After you've found a coupon code on kartcoupon.com that you'd like to redeem, click the green "Get Code" button to open a window that displays your coupon code.
Step Two: Redirecting to Store
After Clicking on Green Button the discount code will automatically copied and a landing page will appear that redirects you to the online store for shopping.
Step Three: Start Shopping
Now comes the part we have been waiting for—shopping. Go to the online store, where you will be able to select your items and add them to the shopping cart.
Step Four: Proceed to Checkout
During checkout, look for a box near your order total labeled "Coupon Code," "Promo Code", or other variation the merchant might use.
Step Five: Enter the Code
Paste or type the code you found on kartcoupon.com into the "coupon" box and submit it. You will then see your discount applied to your balance due. Some merchants will allow you to enter more than one code—repeat the steps above to enter multiple codes at checkout.
Step Six: Enjoy Your Savings
Complete the checkout process and enjoy your savings. Then visit kartcoupon.com the next time you shop to keep the savings coming. Happy Shopping!